Your Redemption Is Drawing Near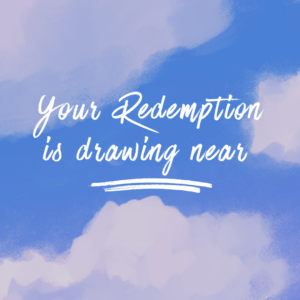 Jesus forewarned His disciples: "When you see Jerusalem surrounded by armies, then know that its desolation has come near. For there will be great distress upon the earth and wrath against this people. They will fall by the edge of the sword and be led captive among all nations, and Jerusalem will be trampled underfoot by the Gentiles, until the times of the Gentiles are fulfilled. And people fainting with fear and with foreboding of what is coming on the world. For the powers of the heavens will be shaken. And then they will see the Son of Man coming in a cloud with power and great glory. Now when these things begin to take place, straighten up and raise your heads, because your redemption is drawing near." (Luke 21)
Jesus used prophecy about Jerusalem and the end of the age as an exhortation to His disciples to "straighten up and raise your heads" because your redemption is drawing near. Whether it was a prophecy that would be fulfilled in less than a hundred years or in 2023 years, His intent was clear. Don't be overtaken, don't be shaken, and for goodness' sake, don't lose sight of the goal: His coming in a cloud with power and great glory, signaling your redemption is near.
I urge you, Christian friend, to always frame what you are witnessing in the world through the lens of the Bible. Don't be shaken or alarmed. The world is unfolding just as He said it would. I've been told that my propensity to quote the Bible is a cop-out. I've been told to "have a mind of my own or speak your mind." But for me, I decided a long time ago that I am not wise enough to parse the world any better than the one who created it. GOD. The cool thing is that when I read the Bible, it provides me with the facts, and I get to renew my mind according to its wisdom and instructions. That's never more so than in Bible prophecy.
Now back to the words of Jesus. When you see the events of the world lining up with the teaching of the Bible, be reminded that "the Son of Man" is coming back to this world to finish what He started, our redemption. And that should put steel in your spine ("straighten up") and hope in your heart ("raise your head").
You will need steel in your spine to respond with moral clarity to those who ask your view about the events happening in our world. You need courage to see that the land of Israel has always been marked out by God as the land He bequeathed to His chosen people and the place where He will come back to finish what He started. Let's make sure that our judgments are in keeping with the facts of the Bible. To say so is not a political argument for me; it's a Biblical one. The least educated child of God knows from their Bible that, from the Book of Genesis onward, God has a plan for the Jews.
You will need hope in your heart. Let the words of Jesus keep your heart pumping strongly for the fulfillment of His promises about the end of the age. Your salvation is nearer now than ever before. Are you ready? Are you living in anticipation? Are you correcting your course to line up with His promises?
We of all people should pray for peace in all the world. We long for and pray for nations to cease war and bloodshed. Our hearts break for all people who suffer. We mourn for those who live under oppressive regimes. And we are angered when evil inflicts its heartless, barbaric wounds on helpless human beings. When we see all the chaos unfolding in the world, our cry is simply, "Even so come, Lord Jesus."
For every depressing look you give to this forlorn world, take a longer look up. He is coming again, and your redemption is drawing near.
Shalom, shalom,
Pastor Deric